Learn how our service differs from traditional graphic design solutions
| | | | | |
| --- | --- | --- | --- | --- |
| | Employee | Freelancer | Agency | Feazer |
| Onboarding | Time to source + Contract management | Time to source + Quote management | Time to source + Quote management | Immediate |
| Turnarounds | 1 to several days | Several days | Several days / weeks | 1-3 days on average |
| Communication | Emails, voice, various project management tools | Emails, voice, various project management tools | Emails, voice, various project management tools | Feazer platform |
| Graphic skills set | Limited | Specialised | Depends on the agency | Complete (Digital, Print, Web, Logo/branding, Powerpoint) |
| Cost (monthly) | Net salaries + taxes | On quotation | On quotation | Fixed monthly fee – 499$/mo |
| Commitment | Work contract | Short to mid-term commitment | Short to long-term commitment | No commitment |
Don't spend hours on Adobe or Canva making your own graphics or weeks looking for the right designers for your projects.
Save money every month and focus on your more strategic and high value actions for your team.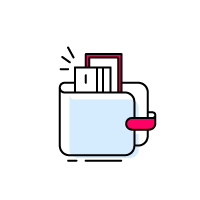 All your projects under one platform
Manage all your projects online with your Feazer project manager
Enter your briefs easily
By answering a few questions and providing us with all the attachments you want.
Exchange quickly
With your dedicated project manager who manages your projects and keeps you informed of their progress.
Manage your projects easily
All your projects managed in the same place. Your exchanges and files are grouped by project.
What your team can do for you
Digital
Creation and declination of web static visuals (banner, images) & social networks (banner, post, ads), pictograms, icons …)
Print
Brochure, flyer, poster, magazine ad, product sheet, kakemono, e-book, packaging, stickers, stationery kit, t-shirt…)
Logo & Branding
Logo creation & branding guidelines (based on a clear concept and direction)
Infographics
Creation of infographics based on comprehensive content provided.
Web design
Simple UI design of web page, landing page based on clear and finalized mockups
GIFs
Creation of GIFs between 2 and 10 seconds in length
Powerpoint
Slides adjustment & optimization and redesign.
Videos and graphic animations
Video editing, complex animation, motion design (available soon), Powerpoint animation
Complex photo editing
Editing, manipulation and complex editing of photos. Purchase of photos
HTML / CSS / UX
Any programming language. Coding and integration in emailing tools. UX study and design
Content / Copywriting / Data
Creation, input, reconsolidation/reconciliation of texts or data. Drafting or correction of written content.
Production media outside the Adobe suite
We do not make graphics in Word, Excel, emailing tools, Figma, Sketch…
Book a demo
Let's discuss your needs together. We will present you our solution.